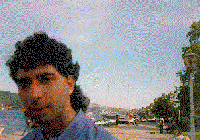 Alberto Devoti "Wolf"
Alberto Devoti was a very qualified senior Student of Genoa University; his background is in Industrial Engineering.
He had working experiences on the development of a Adaptive Planning System to be applied to Health Care Sector and he completed an Health Care System Survey in Arizona and California operating in cooperation with Arizona State University and ITIM Genoa.
He worked in 97/98 as freelance consulting in the first european successful completed project for ISO9000 application to Port Service, developing a quality assurance structure for over 60 Italian Ports. He worked in IVECO as Quality Manager for several production facilities; he accumulated experiences in production, quality and logistics in Spain (Valladolid) and Italy (Suzzara) working in large automotive manufacturing facilities.
Currently he is working in Tool Machinery sector for Gildemeister.

He is called "wolf" (nickname based on his dark aspect).
Wolf is quite world-wide famous as one the major living jokers.

Major interests are Soccer History, the Life of Lenin, Religion, Social Problems.

---
Address:
Liophant Simulation Club
<!a href="mailto:devoti.a@iveco.com">devoti.a@iveco.com alberto.devoti@gildemeister.com and liophant@itim.unige.it

---

to the Home Page